CYCLEWight is an advocacy group that seeks better cycle provision on the Island. We will cooperate with any organisation or individual that wishes to work towards that goal. The group participates in ways to encourage more people of all ages to learn of the joys and benefits of cycling.
Isle Access

Isle Access is a Community Interest Company, working to improve and promote greater accessibility and inclusion on the IOW, for the benefit of local residents, visitors and businesses.
There are many people who, for many reasons, cannot use the standard 2 wheel cycle and, In 2017, we intend to bid for funds to purchase some accessible cycles to hire out.. There are many different types of accessible cycles so we will conduct our market research by inviting various manufacturers of the bikes to come to the IOW and give people with access needs an opportunity to try the different cycles.
Disabled Access Day 2017 is being held over 3 days in March (10th - 12th) and we have secured the use of The Riverside Centre for Saturday 11th to hold the event. We will need some volunteers to assist us with the event and to help bring inclusive cycling to the Island. If you would like to help us, please contact Jan Brookes 07522 558999
It was all a bit last minute but the committee
decided to have a cyclists' breakfast to
celebrate national Bike to Work today on
Wednesday 14th September. The Chamber
of Commerce were very supportive and provided
sponsorship for the event.
As with the last few breakfasts we decided
to put up our breakfast delights at the
junction on Sea Street/Quay Street. We
must have broken our record. A record 87
people attended. (and without most of the
Tints) What was interesting was the 80 cyclists
who passed by and did not stop. It just
goes to show what a large number of people
use their bikes to commute. If they were all CW members and were active in campaigning what a difference would that make!
A big thank you to everyone who turned up to help. Biggest thanks to Andy Newman and his van. It made such a big difference to the event. And he ended up making teas and coffees too.
The Randonnée was a stunning and sunning success this year. (I got sunburnt) 2891 riders were recorded as having started; 85% of pre-registered riders were from the mainland. The furthest a-field was from Australia. Two other riders were from India as well as one for Thailand and a couple from the States.
For the first time ever on a CycleWight newsletter we have included a graph
and it can be seen how the numbers have risen over the years.
Unlike many other similar events it is free to participants and it rates very highly with 84% saying it was excellent. Faceboook and
Twitter accounts continue to grow with the event. On Facebook they have now over 2,600 subscribers with over 14,000 checking the page during April.
It is a great testament to the Wayfarers that they more than hold their own in a very competitive market and that they have embraced technology to make it such a well organised and enjoyable event
Chamber of Commerce
The IW Chamber of Commerce is promoting sustainable travel in the workplace and have been running the campaign 'BIKES IN BUSINESS' which is being delivered as part of funding from the Department For Transport that has been secured by the Isle of Wight Council. Information on the scheme and the benefits of cycling in the workplace can be found here.

The Chamber writes "For those looking for a subtle power boost to cycling there's also the option of using an electric bike. In partnership with the Chamber, Red Squirrel Electric Bikes are reaching out to the Island business community by offering a new business package, including reduced rates on monthly electric cycle hire for IW Chamber of Commerce members. Island businesses can now hire electric bikes for staff use, starting at £65 a month for Chamber members. Businesses are being encouraged to use a "pool" electric bike to save money on parking, taxi fares and car pool charges, as well as helping the environment by cutting carbon and improving the workforce's health. It's a timesaver too, as journey times are often faster on bike than by car, especially at peak traffic times. Find out more by
emailing Red Squirrel Electric Bikes
info@redsquirrelelectricbikes.co.uk
or phoning 01983 521555 Let us hope that this scheme is successful.
CycleWight provided an article for the Chamber's web site giving guidance on commuting and buying a bike.
Access Funds
In an earlier article there has been a
piece about the government's spending
plans with regard cycling and walking. There
is to be to over £550 million pounds spent
over 3 years. It is not as generous as it
sounds as some of the money is already
earmarked.
Additional money for capital projects
(building) is to distributed by the Local Economic
Partnerships (LEPs) The money is
not ring fenced and goes into their 'pot'.
Sadly our local LEP, Solent, has a poor record,
so far, of supporting sustainable transport
projects. It is unclear the actual process
for winning the funding. The CTC (Cycling
UK) are trying to clarify matters
Road User Safety
CycleWight, Dizz Dyer and David Walter have been working together to raise awareness of some of the issues faced by vulnerable road users. With the assistance of Southern Vectis and LSTF funds it has been possible to put a message on the back of two buses. "Go wider for the rider". Please, if you see either bus, take a picture (safely) and send it to CycleWight through our web site. It would be great to create a gallery. It will also be an opportunity to discuss this issue with your non-cycling friends. What does it say in the highway code about overtaking cyclists and horse riders?". Thanks to everyone who has been involved in this project.
Island Roads
now have a new webpage for looking up and reporting potholes and road defects -
click here to visit the site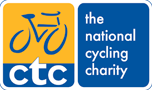 All cyclists need to report any defects in road surfaces.
The CYCLEWight committee suggest that you use the
campaign on the CTC website to report dangerous road conditions. There is also an "App" available for IOS and Android smartphones that uses GPS to tag the location of the pothole or defect, plus it knows where you are and will send the report to the closest Council authority.
LSTF/ Bicycle Island gallery

CYCLEWight Facebook and Twitter
CYCLEWight has now both a Facebook and Twitter presence. Please join us online to keep up with the latest information.
Using The CYCLEWight Calendar Below

If you click on an event, you may find additional information, or a link to the location of the event. You can easily add these events to your own Google calendar
We campaign on local cycling issues and
schemes. Join us, tell your friends
Report Issues Affecting Cyclists
Please take time to report potholes
any right of way obstructions
or abusive vehicle drivers