CYCLEWight
This website was updated 
on 14th August 2019
Is an advocacy group that seeks better cycle provision on the Island. We will cooperate with any organisation or individual that wishes to work towards that goal. The group participates in ways to encourage more people of all ages to learn of the joys and benefits of cycling.
Isle Active Junior Cycling
Draft Island Planning Strategy
The public consultation for the new planning strategy has now closed. CycleWight submitted a seven page document, which covered a series of general issues as well as specific points.
We were very disappointed that appeared to be an acceptance in the increase of car use. It set no target to increase use of cycling or ways of limiting car use. In our submission we emphasised that high quality design standards are needed if we are to encourage people to cycle. In many places in Europe where the topography and weather are similar to the UK 15/20% of utility transport is done by bike.
The next step in the process is for the submissions to be reviewed and changes to the draft strategy made. It will then be submitted to government, where it will be examined independently by a planning inspector. If successful, the Island Plan will be adopted as a major planning document that all future Island development will be guided by.
Horringford Boardwalk
As many of you are aware the boardwalk is now open ahead of schedule. The boardwalk itself has been replaced with wire gabion baskets filled with lightweight materials. This should allow water to filter through and subsidence will be less likely to happen, than if larger stones were used. The original timbers were prone to rotting because of the wet nature of the soil in that area. The path leading to the boardwalk has been resurfaced and widened. This is to allow horse riders to use the path as well.
CycleWight has signed up to a group called Transport for New Homes. It sets out to make sure communities are built that do not have to rely on the motor car. They are looking to make places more human by putting people first in any design of a new development. This is particularly relevant at this time with the large number of predicted houses to be built on the Island. You can find out more information on http://www.transportfornewhomes.org.uk
A summary of 2018 CW activities.
3 x meetings with Island Roads
3 x presentations on the permeability study
4 x meetings with individual Councillors
Advisor at Visit IoW sustainable transport event
Advisor at Sports Strategy meeting
Meeting with Regeneration Director
Attended Access Fund meetings
Attended Sustrans presentation on NCN on the Island
Display at Hullabaloo, Riverfest, Cycle Fest
Commented on 11 planning applications
City Infinity was the company CW used for their evaluation of the St Mary's junction works. We did invite them to the AGM but a representative was unable to make it, Gary Philpotts, from the company, did though make a short video of what is possible with a clear vision of what is needed plus political support. Any thoughts or comments would be most welcome.
https://drive.google.com/open?
id=
1GdZ4A6Ns0iuFe68sMDnRKX2IdBCh2
9Js
The Undercliff

There was a meeting in Niton last week organised by Councillor Stewart, at which he announced that he would be asking IWC's Cabinet for a further £200,000 for survey work on the Undercliff road. The aim of this would be to do the work necessary to reopen the road to through traffic, at an estimated cost of £2 million ( his figure).
We totally understand the depth of feeling around this issue, but feel that the re-opening of the road would do very little to solve the traffic problems of Niton and Whitwell. In fact, taking a wider view, it would be contributing to the idea that the Island is a nice place to drive around.
This walking, horse riding and cycling route between Niton and Ventnor is a precious part of the Island's " Green Capital", and should be valued and promoted as such- we should be encouraging our visitors to leave their cars behind, and explore the Island on foot or bike.
If you haven't already, do please make the time to walk or cycle along the road, and if you think it should remain closed as a through route to vehicles, and that the Council should not be committing more money to it, get in touch with your local councillor!
George Wilks
Bicycle Theft
The Police have responded to the many bikes that have been stolen over the last few week on the Island. Cyclists can help themselves by registering their bikes and keeping a detailed description of each one. (Everyone has at least three!) You can download a form
here
which will help you to do this.
Innovation Grant - Update
Island groups were invited by Isle of Wight Council to bid for grants of up to £10,000 for projects to boost 'sustainable transport'. Our application entitled 'More Paths for All' was successful. It builds on our work from the Cycle Strategy and our Cycling Permeability Study of Newport.
We are now two months in to the project. We are working with a Community Interest Company, called People Powered, which is doing much of the collation of the work and the data input. Ten members of CW volunteered to be surveyors and walk the 51 sections. We have completed 17 and another 20 are under way. It is hoped to finish the physical work by the end of January so as to then have two months to collate the information and write the report.
The grant will give us the means to be able to identify paths on the Island which are strategically important for walkers, cyclists and horse riders. From this we hope to look at ways to be able to obtain funds to bring them into wider use. We will be working with the Rights of Way team as part of our work.
Island Roads.
It is pleasing to report that Island Roads have been in contact with us over the closure of the cycle network because of bridge works and to ask us for our views. The track between Horringford and Langbridge is to have long term works in November and October to mend a bridge. IR though is to keep the track open with a temporary bridge as they have done before at Yarmouth. Great stuff.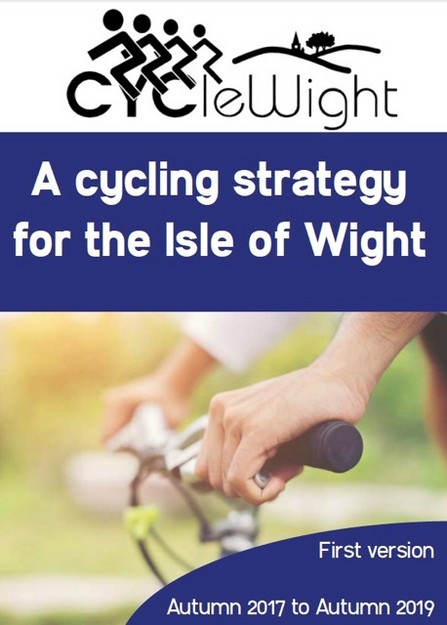 Our Cycle Strategy has now been published for a year. Since its launch it has been downloaded over 700 times; over 100 the day after the CP mentioned it. It is hoped that this will become an important document in establishing proper provision for cycling across the Island. It sets out a series of principles that would make cycling better with a series of maps of strategic routes, which would bring the Island together. It is hoped to update it in 2019 when we hope to be able to cost some of the work we are proposing.
We have distributed it to a wide range of people and institutions. It has been well received and we are particularly pleased the Council will be referring to it in the upcoming Island Plan, which goes out for public consultation in December. They also have it on their official web site.
It can still be downloaded from our web site. Paper copies are available for a charge of £2 including postage.
Wight Cycling Tips
LSTF/ Bicycle Island gallery
Follow
this link
to pictures of some of the different projects delivered via the LSTF and Bicycle Island grants.
CYCLEWight is affiliated to Cycling UK
They provide us with advice, insurance as well as being one of the leading campaign bodies in the Country. You can join Cycling Uk for a reduced fee of £25 by being a member of CycleWight. You will not receive their magazine or some of the other benefits by being a full member but it will include you having third party insurance. If you are interested please contact us through the web site.
Things YOU can do

Repo
rt Issues Affecting Cyclists
Please take time to report potholes
any right of way obstructions
or abusive vehicle drivers
Support Our Campaigns
We campaign on local cycling issues and
schemes. Join us, tell your friends
write to your local MP!
End 2 End Sunday 22nd September
Click the picture for more information
End 2 End – Culver via Gatcombe to The Needles Approx 27.9 miles 3-5 hours ride
Shortened distance – Culver with the option to finish at Gatcombe, Approx 14.3 miles (would suit Under 16's)
End 2 End & Back Again – Culver to The Needles, and back again to Culver via Gatcombe Approx 55.8 miles 7-9 hours ride
The latest Newsletter [
May 19
] is available
HERE...
Minutes of the Cycle Forum meeting [
Jun
19
] can be viewed
HERE...
Minutes of the Committee meeting
[May 19]
can be viewed
HERE..
As many now know the track is closed for 8 weeks, with it re-opening in June. When it became clear the extent of the work CW contacted SSE, the contractor, and Island Roads who are in charge of its upkeep. One of the inadequate signs The route is the busiest on the whole network on the Island; a busy commuter and leisure route with 9,000 recorded cycle movements in May 2018. We have let SSE and IR know that the provision for cyclists and walkers during the closure is wholly inadequate. The diversion is 3.5kms rather than the 1km of the normal route.
A considerable distance if people are walking or cycling especially when the gradients are taken into consideration. The track is to be open during the half term period and weekends if possible. On this last point there does not seem to be a system to let people know if it is open or not. CycleWight will bring this matter up at next month's Cycle Forum The cost of the work, new electric cables, must be costing 10's of thousands of pounds. It is disappointing that a small fraction of that money could not be set aside to assist people to have a safe and pleasant journey
CYCLEWight AGM
The AGM was well attended - over 40 people
Tim Thorne, Chair, gave a presentation on the variety of work carried out by the group over the last year. Some of the highs were winning a grant from the Access Fund and more meetings with Island Roads and the lows the poor design of St Mary's junction and still unnecessary barriers on paths. Tim gave thanks to Colin Boon who has been treasurer to CW for 25 years but has decided to hang up his ledger.
There were a variety of guest speakers. Chris Ashman, the Director of Regeneration, spoke about the plans for the Island. It was good to hear that active travel (sustainable) is an important part of the plans. He outlined the philosophy behind his work and then concentrated on the areas the group would be interested infrastructure and development of certain areas. People Powered provided two speakers. Will Ainsley spoke of the pilot project for cargo bikes on the Island and Martin Gibson about the permeability study of Newport that was commissioned by CycleWight. Finally Sue Bailey gave a presentation on Re-cycle Bikes for Africa. This project has been supported by several CW members in the past but there is always a need for more.
The following officers were elected. Tim Thorne Chair, Alec Lawson Secretary, and Jess Garbett Treasurer.
As per usual the raffle was a great success. A big thanks to all the members who donated a prize.
Wider of the Rider/Pass Wide and Slow
This has been one of our campaigns over the last few years. It has received much more prominence of late, with awareness activities being done on the mainland as well as our and Spyvelo's banners.
The horse community has a nationwide campaign called Pass Wide and Slow (PWAS) Nationally there is to be an event on 14th April and the local organizers have contacted CW with the details of what is being done on the Island. They are keen for cyclists to join them in what is a common problem.
About 100 riders so far, from the Island, have put their names down to take part in the PWAS rides. Rides are being scheduled for Havenstreet to Newport, Ryde Town Centre, Wroxall to Ventnor; Porchfield, Godshill & Freshwater.
Processions will leave their start points at 11am and can be joined or left at safe junctions along the way.
PWAS have their own Facebook site and local details can be obtained from marian645@outlook.com
The Medina Greenway was very badly damaged by the Festival promoters using motorised buggies. A CW member provided photographic evidence which we sent to Rights of Way. They contacted the promoters and we are led to believe that all of the path will be reinstated back to its original condition.
Newport permeability study




CycleWight was awarded a grant from the Awards for All, part of the Lottery, to do a permeability study of Newport. It was intended to be a means of looking at ways to make Newport more walking and cycling friendly. CW hoped that it would lead to working with IWC and Newport Parish Council to implement the recommendations. It was very much aimed at doing things that would be simple and relatively easy to implement.

The report was published in February and has been downloaded over 120 times from our web site. A presentation about it was made at the "Newport Travel Forum" on Saturday 20th Jan. During May members of the CW committee are doing a formal presentation to Newport Town council.

Some of the ideas suggested would be contra flow cycle lanes in Crocker Street and Trafalgar Road, raised platforms at junctions so as to slow cars, 20mph zones in all residential areas and to create a joint use path alongside Medina Way.

Newport Parish Council has commissioned a town audit in the last few months. It sets out a series of actions that could be taken to make it easier to walk around Newport as well as it make it look more pleasing. This in tandem with our report should provide a powerful set of documents to set out plans for a better Newport.

We also sent a copy of the study to all of the other town and parish councils on the Island. This has led to Whippingham and

Wootton Parish Council commissioning their

own permeability study. CycleWight have also been invited to make a presentation to Cowes Town Council in June. Interestingly Cowes has the highest number of people commuting on the Island so it would appear a great place to make further improvements.

Far too often the cry is heard, "It can't be done" It could be, as one only has to go and visit places elsewhere.



Bike Shelters
These items are becoming more common in places across the UK. They are ideal for areas where the housing does not have an easy place to keep a bike eg flats, terraced houses, houses with little storage.
There are plenty of places on the Island where this is true, mainly in the older parts of the various towns. These shelters could allow people who are put off having a bike somewhere to keep them. They take up approximately one car parking space and so the gain for the community is immense. Can you think of an ideal location or maybe already know of a group of people who may be interested in such a feature? Please contact the group as we are keen to see this get off the ground (well on a street)
Unique Visitors Since Last AGM