CYCLEWight is an advocacy group that seeks better cycle provision on the Island. We will cooperate with any organisation or individual that wishes to work towards that goal. The group participates in ways to encourage more people of all ages to learn of the joys and benefits of cycling.
is on 24th of November 19.30 at the Carisbrooke Village Hall. This is always a good evening with the formal part of the meeting kept to a minimum. It is an opportunity to find out what the group has been doing and to ask questions. We hope to have our Cycle Strategy ready for people to view that evening.
Tim Wiggins from the Island and described as one of the best cycling bloggers in the UK is going to do a presentation. Tim recently made national news by being called a 'super commuter' as he rides over 5,000 miles a year to get to work. Tim works at Wiggle so that will also be interesting to gain an insight into how it works!
As usual there will be a raffle and Dougie Saunders is to do a quiz during the refreshment break. What is there not to like?
It would be great if we could manage to get over fifty people attending this year.

As reported previously, the Council has won another bid for funding to encourage Sustainable Transport. This is worth over £1million. As before it is to be split three ways: Tourism, Education and Employment. More details are coming out as time progresses. The really good news is that the funding is for three years so it should be able to achieve more than in the past when it has often been short term- one year. This made it difficult to plan ahead and have long term schemes. The Council has been supported in their successful applications by a company called A to There who have done an excellent job against fierce competition from around the country. IWC is one of the few Councils who have been awarded funds in all four rounds.
Bicycle Theft
The Police have responded to the many bikes that have been stolen over the last few week on the Island. Cyclists can help themselves by registering their bikes and keeping a detailed description of each one. (Everyone has at least three!) You can download a form
here
which will help you to do this.
Tim Thorne, Chair of CycleWight and Michael Slater, of the the Ramblers, met with Bob Seely, the MP to discuss cycling and walking issues on the Island. It was a good meeting with Mr Seely being very positive. He took a great interest in the various projects in which we are involved. He expressed a real interest in the development of paths across the Island. We have now written to him to ask him to write to the Council encouraging them to make a strategic network of paths across the Island a priority. We look forward to more contact with him in the near future.
The Rights of Way team have created a map of the local Rights of Way on the Island. If you click on Map Features it will give you the key. It is often very confusing to know what path is what designation. This solves the problem. The map not only highlights the Rights of Way but paths which are made accessible by the land owner. (Permissive) It should be remembered that footpaths are not open to use for cycles.
This is a great map to be able to see the possibilities of making a comprehensive bridle way network for the Island.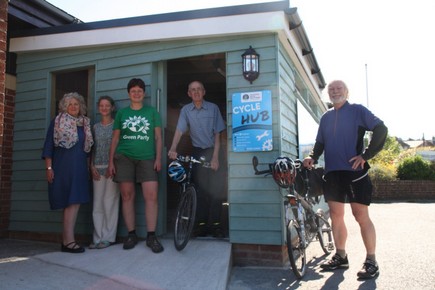 You wait for one and then two come along together! The Newport Cycle Hub is now open. It is based at the Riverway Centre in Newport. It is fully enclosed and can take 16 bikes. It is locked overnight but you can obtain the lock code if you require access out of office hours. A great thing about this facility is that you can have a shower if you like. There is one inside the building. Another great benefit of the facility is that it has lockers so you can keep your cycling clothes etc locked up for the day. You do have to provide your own lock. There is 24hours cctv. If you do wish to access the lock code contact Philippa Daly at Action Isle of Wight. 524058
There is also a community cycle work station just behind the hub which is very well equipped.
New Bridle Path in Newbridge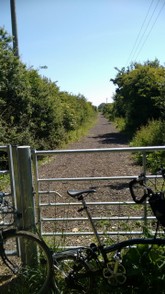 There is a new bridle path opened that runs around the back of Newbridge.
Called Public Bridleway called S41, it runs over the track bed of the old railway line and links existing Bridleways S16 and S36. It is part of a 106 agreement, after a landowner asked permission to develop a solar farm on some of his land. It is a wonderful addition to the Rights of Way Network. The owner is concerned that gates will be left open so it is important if these kinds of improvements are made to the cycling and walking infrastructure on the Island that they are well cared for by the users.
The Council has announced that it has been awarded £9.5 million to improve the transport infrastructure of Newport. This is good news for the people of the Isle of Wight. We are concerned though that this will totally ignore the needs of cycling and walking. We have seen some of the earlier proposals from 2010 which saw pavements being removed and roads being made wider to the detriment of all road users.
As part of our work on a cycle strategy we have been looking at strategic paths across the Island and in particular making Newport more walking and cycling friendly. We have asked to be involved in the formation of the proposals. It does seem to state the obvious but if people travelled more sustainably there would be no need to spend £9 million! Just think how much cycling infrastructure could be built for that and what a difference that would make.
Planning Applications
This has been a busy time for CycleWight. There have been several planning applications on which we have commented: Carisbrooke College, Ryde House, Christ the King College, a housing development at Rookley and the cycling hubs at Cowes and Newport. The decision on some of these are still pending but it is good to report that our objections to the paltry provision for cycle parking at the new Carisbrooke College was improved. The school's travel plan is to be written now rather than when the new college is opened. Let us hope we just as successful with some of the others.
Latest News
- Further to the above we can report sadly the car park for Christ the King College on Vectis Field has been given the go ahead. It is supposed to be temporay. Let us hope so. Sadly the Rookley development has also been give the go ahead without our suggestion that the footpath be developed to join the National Cycle Network which is close by. The development at Scats on Blackwater Road has been declined. One of the reasons in the planners report was the lack of a link to the cycle track directly behind the new development which was pointed out by CycleWight.
Island Roads
now have a new webpage for looking up and reporting potholes and road defects -
click here to visit the site
Permeability (not cycle clothing)
You may well have read the Council has been awarded over £9 million to improve the transport infrastructure in Newport. We have written to be asked to be part of this. At present we have had no reply.
We are determined to make sure pedestrians and cyclists are not overlooked in this process. We applied for and have been awarded a grant from Awards for All, which is part of the lottery, to do a permeability study of Newport. This basically means we are going to look at ways to make Newport more cycling and walking friendly. CycleWight will then hopefully work with the Council and Newport Town Council to implement our ideas. It is very much aimed at doing things which are simple and relatively easy to implement.
We hope that if this process is successful we will be able to share our knowledge with other towns on the Island.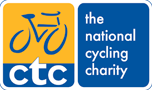 All cyclists need to report any defects in road surfaces.
The CYCLEWight committee suggest that you use the
campaign on the CTC website to report dangerous road conditions. There is also an "App" available for IOS and Android smartphones that uses GPS to tag the location of the pothole or defect, plus it knows where you are and will send the report to the closest Council authority.
LSTF/ Bicycle Island gallery

CYCLEWight Facebook and Twitter
CYCLEWight has now both a Facebook and Twitter presence. Please join us online to keep up with the latest information.
Using The CYCLEWight Calendar Below

If you click on an event, you may find additional information, or a link to the location of the event. You can easily add these events to your own Google calendar
We campaign on local cycling issues and
schemes. Join us, tell your friends
Report Issues Affecting Cyclists
Please take time to report potholes
any right of way obstructions
or abusive vehicle drivers