CYCLEWight consultation response to proposed changes to St Mary's junction and the Newport cycle permeability study can be download in pdf format using the buttons below

Is an advocacy group that seeks better cycle provision on the Island. We will cooperate with any organisation or individual that wishes to work towards that goal. The group participates in ways to encourage more people of all ages to learn of the joys and benefits of cycling.
The latest Newsletter [
July 18
] is available
HERE...
Minutes of the Cycle Forum meeting [
June 18
] can be viewed
HERE...
Minutes of the Committee meeting [
July 18
]
can be viewed
HERE..
There has been some recent articles about re-opening the Undercliff to motorised traffic. There is a need for a discussion to be held. Dave Stewart, the Leader of IWC and a Councillor for Niton is keen for it to re-open. From many cyclists (and others we suspect) point of view the Undercliff has become a joy to ride. The article highlights the loss of income to businesses along the route. Is there any thought of how much business it might generate because there is a lack of motorised traffic?
A CycleWight committee member attended a Coffee Morning at Niton on Sat 28th July, which was about the re-opening of the road. As one can imagine there was a diverse range of views. These include reinstating the road for all traffic or limiting it just to private cars. Other ideas were to turn it into a proper Quiet 'Green' Road for the use of residents, visitors, cyclists, horse riders and walkers. Something everyone agreed on was that the signing needs to be improved immediately. Many drivers think the road is open and drive up to the land slip. And on the other hand cyclists seeing the 'Road Closed' sign seek an alternative route rather than carry on. (Not for the fainthearted the last group!)
The committee did discuss the issue and feel a road closed to motor traffic might become a destination in its own right if the tourist potential was fully embraced.
Close Pass Mat

Cycling Uk bought every constabulary in the country a close pass mat. The mat shows the distance a car should give when overtaking a cyclist. CW have written twice to Hampshire Police to ask for it to come to the Island. Sadly for a variety of reasons we still wait. What to do? Well we did our own at the recent Riverfest. It highlights the 1.5 meters gap between vehicle and cyclist,
Thanks to Steve Goodman whose artistic skills were well appreciated. If you join the Cw committee you can do all kinds of exciting things! We attended the Hullabaloo event, in Sandown, the week before. Once again we had a good time with us recruiting members as well as engaging with a variety of people. It did end in rain but it did help us remember we do live in Britain.
SHIFT-IT
This is the name for the Active Travel Schools Programme on the Island. It is part of a government initiative from their Access Fund. 'Shift-It' has been in place for 9 months now and is busy delivering a range of activities across primary, secondary and 16-19 provision.
This year they will introduce the new "Shift It Schools Award", which recognises schools who promote active and sustainable travel within their community. There will be three levels of award. Successful schools will be able to display awarded a plaque.
A big development is delivering Bikeability in high schools with the aim that more children feel confident to ride their bikes to and from school. It is proposed
to run some level 1 and 2 courses in the summer holidays this year for young people who do not have the opportunity to access the course elsewhere.
Student Power is a project that is supporting a group of students at Medina College who are acting as 'Shift-It' ambassadors for active travel and are meeting with parents and senior leaders of the school to try and push the agenda for upgrading their current bike and scooter storage.
Shift it is being delivered by Wight Cycle Training. If you are interested in any of their programmes or know of a youth group who may benefit from their expertise contact Ross Edmunds ross@wightcycle.co.uk
Newport permeability study




CycleWight was awarded a grant from the Awards for All, part of the Lottery, to do a permeability study of Newport. It was intended to be a means of looking at ways to make Newport more walking and cycling friendly. CW hoped that it would lead to working with IWC and Newport Parish Council to implement the recommendations. It was very much aimed at doing things that would be simple and relatively easy to implement.

The report was published in February and has been downloaded over 120 times from our web site. A presentation about it was made at the "Newport Travel Forum" on Saturday 20th Jan. During May members of the CW committee are doing a formal presentation to Newport Town council.

Some of the ideas suggested would be contra flow cycle lanes in Crocker Street and Trafalgar Road, raised platforms at junctions so as to slow cars, 20mph zones in all residential areas and to create a joint use path alongside Medina Way.

Newport Parish Council has commissioned a town audit in the last few months. It sets out a series of actions that could be taken to make it easier to walk around Newport as well as it make it look more pleasing. This in tandem with our report should provide a powerful set of documents to set out plans for a better Newport.

We also sent a copy of the study to all of the other town and parish councils on the Island. This has led to Whippingham and

Wootton Parish Council commissioning their

own permeability study. CycleWight have also been invited to make a presentation to Cowes Town Council in June. Interestingly Cowes has the highest number of people commuting on the Island so it would appear a great place to make further improvements.

Far too often the cry is heard, "It can't be done" It could be, as one only has to go and visit places elsewhere.



This has been a busy time for CycleWight. There have been several planning applications on which we have commented: Carisbrooke College, Ryde House, Christ the King College, a housing development at Rookley and the cycling hubs at Cowes and Newport. The decision on some of these are still pending but it is good to report that our objections to the paltry provision for cycle parking at the new Carisbrooke College was improved. The school's travel plan is to be written now rather than when the new college is opened. Let us hope we just as successful with some of the others.
Latest News - Further to the above we can report sadly the car park for Christ the King College on Vectis Field has been given the go ahead. It is supposed to be temporay. Let us hope so. Sadly the Rookley development has also been give the go ahead without our suggestion that the footpath be developed to join the National Cycle Network which is close by. The development at Scats on Blackwater Road has been declined. One of the reasons in the planners report was the lack of a link to the cycle track directly behind the new development which was pointed out by CycleWight.
Bike Shelters
These items are becoming more common in places across the UK. They are ideal for areas where the housing does not have an easy place to keep a bike eg flats, terraced houses, houses with little storage.
There are plenty of places on the Island where this is true, mainly in the older parts of the various towns. These shelters could allow people who are put off having a bike somewhere to keep them. They take up approximately one car parking space and so the gain for the community is immense. Can you think of an ideal location or maybe already know of a group of people who may be interested in such a feature? Please contact the group as we are keen to see this get off the ground (well on a street)
Bicycle Island App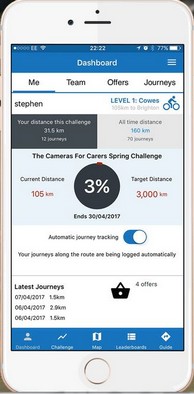 Some of you may have heard but there is now a Bicycle Island app. This is an exciting development which is the first 'smart cycling corridor' in the country. It is based on the Cowes to Newport cycle track. You can sign up by using a smartphone, just look on the app store for Bicycle Island. It has two purposes. Firstly it is meant to encourage people to cycle. It records journeys along the track. The app sets regular distance challenges for the community to aim at. Every user's journey along the cycle route contributes to the overall target. If the target is reached a local Isle of Wight charity gets a donation. Secondly visitors to the Island can use the app to find out about thiar journey along the track with interesting infomration. This has been launched in the last few weeks.
LSTF/ Bicycle Island gallery
Follow
this link
to pictures of some of the different projects delivered via the LSTF and Bicycle Island grants.
Using The CYCLEWight Gooogle Calendar Below
If you click on an event, you may find additional information, or a link to the location of the event. You can easily add these events to your own Google calendar
You may have heard that this week the path has been closed because of the damage done by the 'golf buggies' used by the Festival. The group has written to express our disappointment and the need for the repairs to be permanent. The picture shows the damage to the path days after the festival with the matting structure being totally uplifted
Believe it or not?
This year will see CycleWight being formed for 25 years. It began in September 1993 with a "Fun Run" along the Cowes to Newport track, with 50 people attending in pouring rain! The following month we organised a meeting in the Quay Arts Centre in October. Speakers were the Council's Principle Road Engineer, Right of Way Manager and Sustrans. For those who attended it is still remembered as a lively event! Any ideas on how to celebrate this important moment please do get in contact. A small note. CW were obviously ahead of the times. We should have put a copyright on the term fun run. We could have owned half of the Isle of Wight by now
You can now download the document, or
Click Here
to read online.
Like many people CW are waiting to hear about the next steps in the scheme. We have written to ask if the submissions are to be published but we have not received any response. Over 150 people have downloaded our 6 page submission.
Our two 'big' ideas are for there to be a multi user path on the eastern side of Medina Way, which would take people down to the town. The other suggestion was the junction design where Forest Road meets Medina Way. It would make it simpler and safer for pedestrians and cyclists to get to the hospital from the town. As part of this we suggested that the bus stop on the Cowes side of the road should be an island design, which are becoming more common. This would prevent conflict between those waiting for the bus and those trying to cross the road to the hospital.
Innovation Grant
Island groups are being invited to bid for grants of up to £10,000 for projects to boost 'sustainable transport'. They are being asked to come up with creative and ground-breaking ideas to get people actively involved in "clean, green and healthy travel". The funding is from the Isle of Wight Council as part of its Sustainable Transport Access Fund from the government.
"This is a brilliant scheme, and I would strongly encourage community groups, charities, businesses and other organisations to get involved," said Councillor Ian Ward, Cabinet member for public transport. "We are looking for innovative projects that will really put the Island on the map as a top location for sustainable travel."
Last year grants went towards schemes including encouraging the use of electric bikes and to promote therapeutic walking. Applications this year must be sent in by 17 June. An online form and further details are at www.iwight.com/sportsunit
The Sustainable Transport Innovation Grant forms part of a wider programme of transport interventions being delivered by the Isle of Wight Council over the next two years, using £1.35 million of funding won competitively from the Department for Transport (DfT)
A brand new eco campsite aimed specifically at cyclists and walkers -
read more.....
Gurnard Press, Worsley Road, Gurnard
has been open for a year now in what used to be the old newsagents. Although they have been serving tea/coffee/cake for a while they now have a permanent cook in the kitchen so intend to do breakfasts and widen the cake varieties. They are keen that the cycling population know where they are. West Wight Wheelers already go there on a Wednesday morning but would also like more cyclists to drop by. Must be worth a try!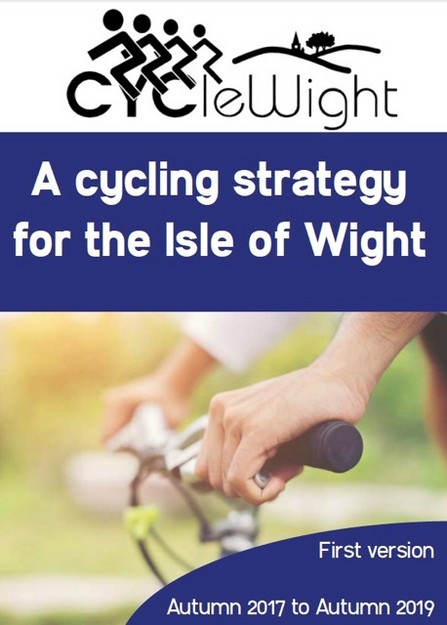 Our Cycle Strategy has now been published for six months. Since its launch it has been downloaded over 450 times; over 100 the day after the CP mentioned it. It is hoped that this will become an important document in establishing proper provision for cycling across the Island. It sets out a series of principles that would make cycling better with a series of maps of strategic routes, which would bring the Island together. It is hoped to update it in 2019 when we hope to be able to cost some of the work we are proposing.
We have distributed it to a wide range of people and institutions. It has been well received and we are particularly pleased the Council will be referring to it in the upcoming Island Plan, which goes out for public consultation in October. They also have it on their official web site.
It can still be downloaded from our web site. Paper copies are available for a charge of £2 including postage.
Cycle Survey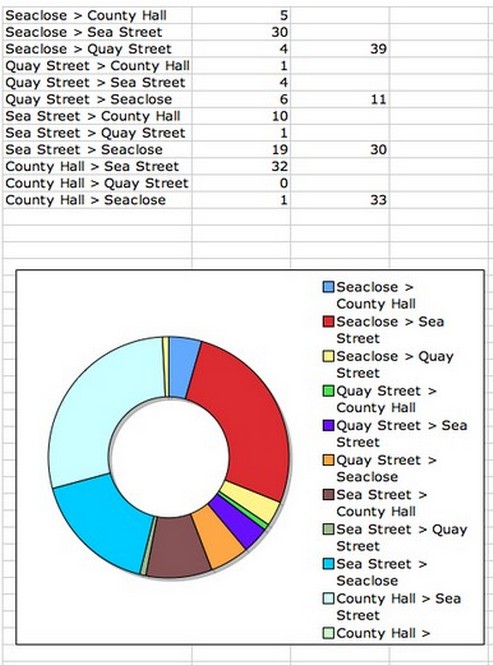 Two members of the CycleWight committee bit the bullet and got up early to do a cycle survey at the junction of Quay Street and Sea Street in Newport. As most of you will know this is where National Cycle Network Routes 22/23 cross and is a very busy commuter route. From 06.30 to 09.00 113 cyclists passed the spot. As we thought and now know that there are a lots of cycle commuters out there. It was a cold and foggy November morning which makes the figures even more impressive. The two most popular routes were from Seaclose onto Sea Street and from County Hall, using the cross Newport route, onto Sea Street.
We will endeavour to keep the survey going on a regular basis. Anyone fancy helping please do get in contact.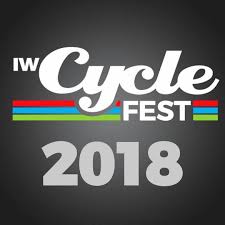 The Isle of Wight Cycling Festival 2018. Set on the spectacular Isle of Wight, and with a launch weekend featuring a retail village, rides suitable for all ages and abilities, local cuisine, entertainment and incorporating the SpyVelo 100 mile Cyclo-Sportive, the IW Cycle Fest will start in style on Saturday 25th August 2018.
Over the event, multiple rides will take place from various locations – with accurate grading and all cycling disciplines covered, there will be rides suitable for every rider. The second weekend will be an off-road extravaganza, with a Cyclo-Cross race, junior racing, coaching sessions and the mighty 7 Hills MTB event.
With a relaxed, family atmosphere throughout, plus local food vendors and live entertainment, the IW Cycle Fest will end with a cycle themed closing party.
Bicycle Theft

The Police have responded to the many bikes that have been stolen over the last few week on the Island. Cyclists can help themselves by registering their bikes and keeping a detailed description of each one. (Everyone has at least three!) You can download a form
here
which will help you to do this.
Cycling and Walking Paper
Just before Christmas Bob Seely asked for a paper to be written on improving cycling and walking on the Island. Natural Enterprise led the work with assistance from other groups, including CycleWight. It was delivered within a two weeks timeframe. Mr Seely passed it on Jesse Norman, the minister responsible for Roads and Local Transport. Lets us hope that at some future date that this will help attract additional funds for cycling and walking. What could have been achieved with £9 million?
Wight Cycling Tips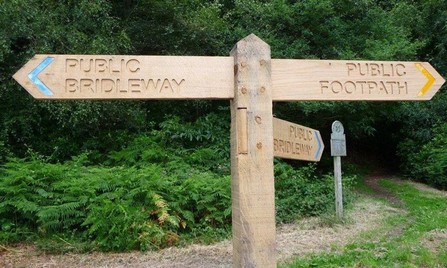 The Rights of Way team have created a map of the local Rights of Way on the Island. If you click on Map Features it will give you the key. It is often very confusing to know what path is what designation. This solves the problem. The map not only highlights the Rights of Way but paths which are made accessible by the land owner. (Permissive) It should be remembered that footpaths are not open to use for cycles.
This is a great map to be able to see the possibilities of making a comprehensive bridle way network for the Island.

All cyclists need to report any defects in road surfaces. The CYCLEWight committee suggest that you use the
"

Fill that hole

"

campaign on the Cycling UK website to report dangerous road conditions. There is also an "App" available for IOS and Android smartphones that uses GPS to tag the location of the pothole or defect, plus it knows where you are and will send the report to the closest Council authority. Visit the Pothole reporting site HERE
Things YOU can do

Repo
rt Issues Affecting Cyclists
Please take time to report potholes
any right of way obstructions
or abusive vehicle drivers
Support Our Campaigns
We campaign on local cycling issues and
schemes. Join us, tell your friends
write to your local MP!
Unique Visitors Since Last AGM