Please Take The Time To Report Pot Holes
This website was updated 
Wednesday 4th March 2020
Is an advocacy group that seeks better cycle provision on the Island. We will cooperate with any organisation or individual that wishes to work towards that goal. The group participates in ways to encourage more people of all ages to learn of the joys and benefits of cycling.
APPLY ONLINE
To join CYCLEWight!
We need YOUR support to help us continue promoting cycling and campaigning for better conditions for cyclists on the
Isle of Wight!
National Cycle Network
CycleWight has become increasingly concerned with the state of the National Cycle Network on the Island:from Ryde to Newport via Wottoon and from Cowes to Sandown and Wroxall (The Red Squirrel trail) Island Roads have the contract to maintain both routes but in many places very little appears to have been done to maintain let alone upgrade. We have produced a report and after a meeting with the council have handed it over to them.
The Council has agreed to look at it before meeting with IR to discuss our findings. Previously there has been discussions over the exact levels of maintenance. Let us hope this time it can be resolved. It is a an essential part of the lives of many people on the Island as well as a central part of the tourist offer.
STOP PRESS:
Some work has been carried out in the last few weeks. The track at Wootton has ben upgraded, parts of the NCN been swept and some potholes in Birchmore Lane have been filled in. A good start.
CycleWIGHT AGM 29th November
We had over 40 people come to the AGM on Friday 29th November. It was great to see so many new members come along. Four of the candidates for the election attended. There were really good presentations by Chris Gregory of 'A to there' and Richard Lewis from 'Active Planning' showing what is possible with the correct support. Richard led an exercise that encouraged our members to look at maps of Newport and seek solutions to travelling across and through the town. Amazingly people did come up with fresh ideas even though, as a committee, we had looked at this on so may occasions. You CAN teach an old dog new tricks. Richard then commented on the ideas using his expertise gleaned from travelling in the Uk and abroad.
Earlier in the day members of the committee and invited guests had walked around Newport, with Richard looking at issues for cyclists and pedestrians. We hope progress made in Newport will be able to be used in other places around the Island.
Pot Holes etc
Everyone's favourite topic. It is fair to say that many roads on the Island are now a very good surface. The Round the Island Cycle route is in the main part excellent. It has become a visitor attraction in its own right. BUT there are still places where for cyclists roads are grim. Cyclists as a group must report defects. The argument goes "Nothing is done so why bother." Records are kept and the pressure of number of reports will have an effect. https://fms.islandroads.com/ is the reporting system.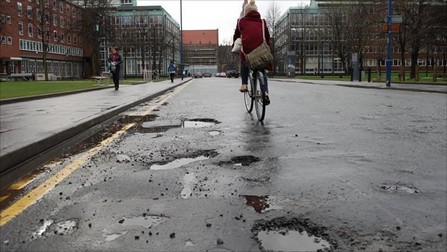 This is particularly true at the moment for defects on the NCN routes. if you are unhappy with the response you can contact IR by email.info@islandroads.com and ask for more information on your issue. A last resort is to contact CycleWight. We do meet with IR and IWC regularly and issues are raised.
At the present time IR are trialling a system based on taking a picture with an app and reporting it straight away. Too trendy for some but it may be an improvement. Hopefully you might report an issue there and then rather that forget about it by the time you get home. (That describes me but I guess others too)
The Undercliff (update)
It has been reported that the results for the public consultation on the reopening of the Undercliff has showed that 58% of people are in favour. It is now suggested to pay for an engineering feasibility study costing £200,000. The likely cost of the road is to be between £1/2 million if it gets the go ahead. CycleWight have been working for over a year for this to be declared a cycling leisure route. It has been discussed with various bodies including Island Roads and IWC.
It has been slow progress though we understand the design of the signage has been approved by the Department of Transport. The area is a wonderful opportunity to create a special space for walking, cycling and horse riding. This Island has been awarded biosphere status but Councillor Stewart wants to spend a large sum of money on a road of which there is no certainty of success. With the correct
support and funding it could become a wonderful eco resource for locals and visitors, indefinitely
.
Bicycle Theft
The Police have responded to the many bikes that have been stolen over the last few week on the Island. Cyclists can help themselves by registering their bikes and keeping a detailed description of each one. (Everyone has at least three!) You can download a form
here
which will help you to do this.
Innovation Grant - Update
Island groups were invited by Isle of Wight Council to bid for grants of up to £10,000 for projects to boost 'sustainable transport'. Our application entitled 'More Paths for All' was successful. It builds on our work from the Cycle Strategy and our Cycling Permeability Study of Newport.
We are now two months in to the project. We are working with a Community Interest Company, called People Powered, which is doing much of the collation of the work and the data input. Ten members of CW volunteered to be surveyors and walk the 51 sections. We have completed 17 and another 20 are under way. It is hoped to finish the physical work by the end of January so as to then have two months to collate the information and write the report.
The grant will give us the means to be able to identify paths on the Island which are strategically important for walkers, cyclists and horse riders. From this we hope to look at ways to be able to obtain funds to bring them into wider use. We will be working with the Rights of Way team as part of our work.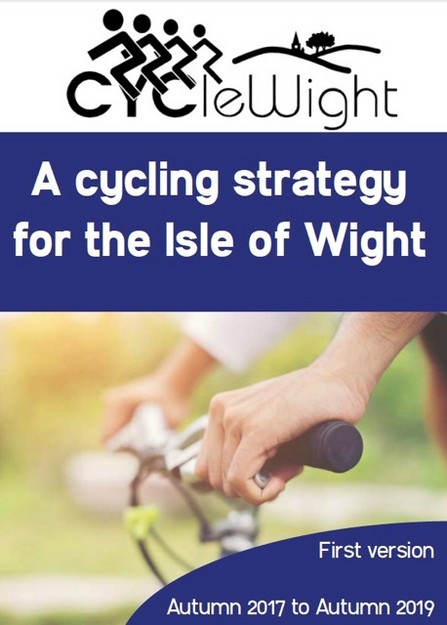 Our Cycle Strategy has now been published for a year. Since its launch it has been downloaded over 700 times; over 100 the day after the CP mentioned it. It is hoped that this will become an important document in establishing proper provision for cycling across the Island. It sets out a series of principles that would make cycling better with a series of maps of strategic routes, which would bring the Island together. It is hoped to update it in 2019 when we hope to be able to cost some of the work we are proposing.
We have distributed it to a wide range of people and institutions. It has been well received and we are particularly pleased the Council will be referring to it in the upcoming Island Plan, which goes out for public consultation in December. They also have it on their official web site.
It can still be downloaded from our web site. Paper copies are available for a charge of £2 including postage.
Wight Cycling Tips
LSTF/ Bicycle Island gallery
Follow
this link
to pictures of some of the different projects delivered via the LSTF and Bicycle Island grants.
CYCLEWight is affiliated to Cycling UK
They provide us with advice, insurance as well as being one of the leading campaign bodies in the Country. You can join Cycling Uk for a reduced fee of £25 by being a member of CycleWight. You will not receive their magazine or some of the other benefits by being a full member but it will include you having third party insurance. If you are interested please contact us through the web site.
Things YOU can do

Repo
rt Issues Affecting Cyclists
Please take time to report potholes
Any right of way obstructions
or abusive vehicle drivers
Support Our Campaigns
We campaign on local cycling issues and
schemes. Join us, tell your friends
write to your local MP!
The latest CYCLEWight Newsletter
Minutes of the Cycle Forum meeting
[February 20]
can be viewed
HERE...
Minutes of the Committee meeting
[February 20]
can be viewed
HERE..
Access Fund Report 2018/19
The Report can be viewed
HERE
This has become a regular topic on CW newsletters. The reason is that until the design of developments is of high quality it will be a major stumbling block for people to walk or cycle. The Council has announced that it is having a housing review and consultation as it feels that the number of new homes to be built set by government is too high. https://iwightinvest.com/housing-strategy/ This provides the opportunity for CycleWight members to write to insist on higher design standards for the infrastructure. On the last page of the newsletter you will find more details on how to make a comment on the strategy. Time after time developments on the Island are not designed to make cycling and walking the first choice even though there is plenty of guidance on how to do so. This guidance is often ignored by the bodies that are part of the planning process. The argument given to CW is that if higher standards were imposed developers would walk away
Newport to
Cowes (follow up)
In the last newsletter we highlighted the poor finishing to the cycle track near Cowes after the work done by SSEE to lay a new cable. As was suggested by us, and others, the track now
has puddles where the work is as there is no run off.
We will continue to pursue this.
Much better news has been at the Cowes entrance to the track, which was also left unfinished. Cllr Peacey - Wilcox listened to our views and complained about the fact that the resurfacing work had not been done by the gate. It has now be re-instated.
Going Electric
Like many people I came to adult cycling in middle age, looking for something to compliment gym sessions, and give me some fresh air. Alas being late to the party meant hills – more correctly the strength to cycle up them - were always my bête noir, and this was exacerbated by a knee injury in 2017 that got progressively worse. In the middle of 2018 I started to think about going electric. TAV in Ryde couldn't have been more helpful, and I found myself the owner of a Merida electric hybrid. Best decision ever! My Fitbit tells me I burn around 2/3 of the calories I used to burn from a conventional cycle, but like many electric cyclists I find myself going further and having more confidence.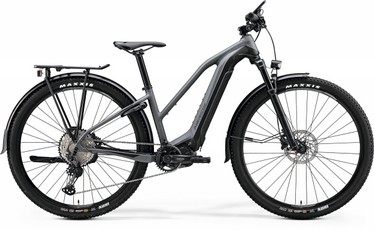 The choice of off, eco, normal and high power outputs allows adjustment for tiredness, road conditions, and gradients, and whereas cycling used to be a distinct exercise / leisure activity for me, now the bike
sometimes comes out for a quick trip to the shops, so cycling has become more functional. Dare I say it more enjoyable as well. A question that I sometimes get is range on the battery – well it depends. On full charge the Eco setting gives a range of 60 miles, but that assumes a consistent power draw, which, of course, doesn't happen. Last autumn I rode from home in Brading to St Catherines and back, outward on the coast via Sandown, Shanklin and Ventnor, and back inland via Godshill and Whitwell. Outward the hills at Luccombe meant I used 50% battery on the first half of the ride, but the flatter homeward route only used 20%, leaving me a good reserve at the end of a 30 mile ride. I was a bit apprehensive moving to an electric bike. Maybe it felt like cheating? However it's meant I've been able to cycle again within weeks of two rounds of knee surgery, and I've got the confidence to tackle the ups and downs of the Island. In short a decision I don't regret, and one I'd recommend to anyone else thinking about it. Jess Garbett *Recent research shows people who use electric bikes actually exercise as much as people with conventional bikes as they do tend to go further and use them more.
Wider of the Rider/Pass Wide and Slow
This has been one of our campaigns over the last few years. It has received much more prominence of late, with awareness activities being done on the mainland as well as our and Spyvelo's banners.
The horse community has a nationwide campaign called Pass Wide and Slow (PWAS) Nationally there is to be an event on 14th April and the local organizers have contacted CW with the details of what is being done on the Island. They are keen for cyclists to join them in what is a common problem.
About 100 riders so far, from the Island, have put their names down to take part in the PWAS rides. Rides are being scheduled for Havenstreet to Newport, Ryde Town Centre, Wroxall to Ventnor; Porchfield, Godshill & Freshwater.
Processions will leave their start points at 11am and can be joined or left at safe junctions along the way.
PWAS have their own Facebook site and local details can be obtained from marian645@outlook.com
Newport permeability study




CycleWight was awarded a grant from the Awards for All, part of the Lottery, to do a permeability study of Newport. It was intended to be a means of looking at ways to make Newport more walking and cycling friendly. CW hoped that it would lead to working with IWC and Newport Parish Council to implement the recommendations. It was very much aimed at doing things that would be simple and relatively easy to implement.

The report was published in February and has been downloaded over 120 times from our web site. A presentation about it was made at the "Newport Travel Forum" on Saturday 20th Jan. During May members of the CW committee are doing a formal presentation to Newport Town council.

Some of the ideas suggested would be contra flow cycle lanes in Crocker Street and Trafalgar Road, raised platforms at junctions so as to slow cars, 20mph zones in all residential areas and to create a joint use path alongside Medina Way.

Newport Parish Council has commissioned a town audit in the last few months. It sets out a series of actions that could be taken to make it easier to walk around Newport as well as it make it look more pleasing. This in tandem with our report should provide a powerful set of documents to set out plans for a better Newport.

We also sent a copy of the study to all of the other town and parish councils on the Island. This has led to Whippingham and

Wootton Parish Council commissioning their

own permeability study. CycleWight have also been invited to make a presentation to Cowes Town Council in June. Interestingly Cowes has the highest number of people commuting on the Island so it would appear a great place to make further improvements.

Far too often the cry is heard, "It can't be done" It could be, as one only has to go and visit places elsewhere.



Bike Shelters
These items are becoming more common in places across the UK. They are ideal for areas where the housing does not have an easy place to keep a bike eg flats, terraced houses, houses with little storage.
There are plenty of places on the Island where this is true, mainly in the older parts of the various towns. These shelters could allow people who are put off having a bike somewhere to keep them. They take up approximately one car parking space and so the gain for the community is immense. Can you think of an ideal location or maybe already know of a group of people who may be interested in such a feature? Please contact the group as we are keen to see this get off the ground (well on a street)
Unique Visitors Since Last AGM