CYCLEWight is an advocacy group that seeks better cycle provision on the Island. We will cooperate with any organisation or individual that wishes to work towards that goal. The group participates in ways to encourage more people of all ages to learn of the joys and benefits of cycling.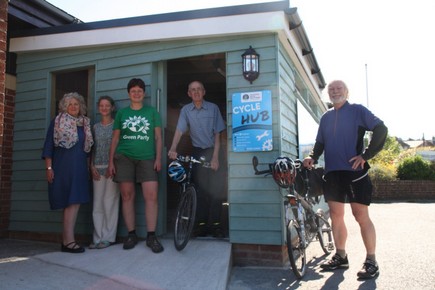 Cycle Hub
You wait for one and then two come along together! The Newport Cycle Hub is now open. It is based at the Riverway Centre in Newport. It is fully enclosed and can take 16 bikes. It is locked overnight but you can obtain the lock code if you require access out of office hours. A great thing about this facility is that you can have a shower if you like. There is one inside the building. Another great benefit of the facility is that it has lockers so you can keep your cycling clothes etc locked up for the day. You do have to provide your own lock. There is 24hours cctv. If you do wish to access the lock code contact Philippa Daly at Action Isle of Wight. 524058
There is also a community cycle work station just behind the hub which is very well equipped.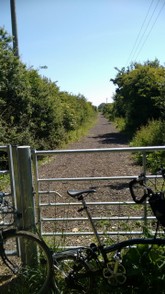 There is a new bridle path open. Public Bridleway called S41, has been opened. It runs over the track bed of the old railway line and links existing Bridleways S16 and S36. It is part of a 106 agreement, after a landowner asked permission to develop a solar farm on some of his land. It is a wonderful addition to the Rights of Way Network. The owner is concerned that gates will be left open so it is important if these kinds of improvements are made to the cycling and walking infrastructure on the Island that they are well cared for by the users.
Yarmouth to Freshwater Cycletrack
CycleWight have been informed by Island Roads there will be a temporary structure to continue to allow access. There will be times however when there will be no access at all when heavy machinery is being used. This should be for only a few hours at a time. Notification of a closure will be given 24 hours before its occurrence. There are no plans at the moment for the track to be closed at weekends.
If anyone or organisation are are having an event using the track, including weekends, they should contact
ian.hodson@islandroads.com
They will try as far as possible to ensure closures avoid any event.
Early morning and evening commuters should not be effected.
The temporary bridge will be 2 metres wide and approximately 20 metres long.
Access Funds


The Council have won a new round of funding for sustainable transport: The Access Fund. This time the grant is for three years and is worth over £1 million. This is the fourth time in succession that the Council has been awarded such grants; one of the few Councils in the county to have achieved this. The Council should be congratulated for having the initiative to apply and be willing to support the ideal. A special mention must be to Chris Gregory of A-To-There Solutions,, who has masterminded many of the later applications and helped to then coordinate much of the subsequent work.
As before the funding will be split into three strands:employment, education and tourism. The initiatives that will be carried out over the next three years will include; encouraging the 11-16 group to cycle, to encourage employers to use sustainable transport in their business and for holiday providers to be more aware of sustainable transport options. More details can be found on the Council web site.
The Council has announced that it has been awarded £9.5 million to improve the transport infrastructure of Newport. This is good news for the people of the Isle of Wight. We are concerned though that this will totally ignore the needs of cycling and walking. We have seen some of the earlier proposals from 2010 which saw pavements being removed and roads being made wider to the detriment of all road users.
As part of our work on a cycle strategy we have been looking at strategic paths across the Island and in particular making Newport more walking and cycling friendly. We have asked to be involved in the formation of the proposals. It does seem to state the obvious but if people travelled more sustainably there would be no need to spend £9 million! Just think how much cycling infrastructure could be built for that and what a difference that would make.
Planning Applications
This has been a busy time for CycleWight. There have been several planning applications on which we have commented: Carisbrooke College, Ryde House, Christ the King College, a housing development at Rookley and the cycling hubs at Cowes and Newport. The decision on some of these are still pending but it is good to report that our objections to the paltry provision for cycle parking at the new Carisbrooke College was improved. The school's travel plan is to be written now rather than when the new college is opened. Let us hope we just as successful with some of the others.
Island Roads
now have a new webpage for looking up and reporting potholes and road defects -
click here to visit the site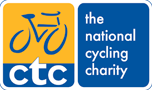 All cyclists need to report any defects in road surfaces.
The CYCLEWight committee suggest that you use the
campaign on the CTC website to report dangerous road conditions. There is also an "App" available for IOS and Android smartphones that uses GPS to tag the location of the pothole or defect, plus it knows where you are and will send the report to the closest Council authority.
LSTF/ Bicycle Island gallery

CYCLEWight Facebook and Twitter
CYCLEWight has now both a Facebook and Twitter presence. Please join us online to keep up with the latest information.
Using The CYCLEWight Calendar Below

If you click on an event, you may find additional information, or a link to the location of the event. You can easily add these events to your own Google calendar
We campaign on local cycling issues and
schemes. Join us, tell your friends
Report Issues Affecting Cyclists
Please take time to report potholes
any right of way obstructions
or abusive vehicle drivers